The Dixie Fire has become California's sixth largest fire in history after growing roughly 50,000 acres overnight.
The fire has burned at least 322,502 acres and is just 35 percent contained, according to the latest data released Thursday from the California Department of Forestry and Fire Protection (Cal Fire).
The blaze jumped from the eighth largest fire in state history to the sixth overnight. The August Complex fire from August 2020 is still California's largest fire having burned more than 1 million acres.
The Dixie Fire sparked on July 14 above the Cresta Dam in Feather River Canyon and has since spread over Butte County and Plumas County. Firefighter crews are battling the blaze in two zones: the east zone and west zone.
Cal Fire said Thursday the west zone is experiencing "extreme fire behavior" fueled by low humidity and strong winds that allowed the blaze to spread an additional 50,000 acres from Wednesday to Thursday.
In the east zone, the fire "spotted over control lines" and "grew explosively with whole tree torching and a crown fire being driven by gusty winds."
"Despite valiant efforts of firefighters, aerial resources and law enforcement to protect life and property, fire spread into the community of Greenville," Cal Fire said in a statement. "Damage assessment is ongoing."
A "Red Flag Warning"—the agency's highest alert issued for weather events that may result in extreme fire behavior that will occur within 24 hours—will remain in effect for the area until 8 p.m. on Thursday.
The Plumas County Sheriff's Office issued a warning on Wednesday warning residents to evacuate the area: "If you are still in the Greenville area, you are in imminent danger and you MUST leave now!"
The cause of the Dixie Fire is unknown and currently under investigation.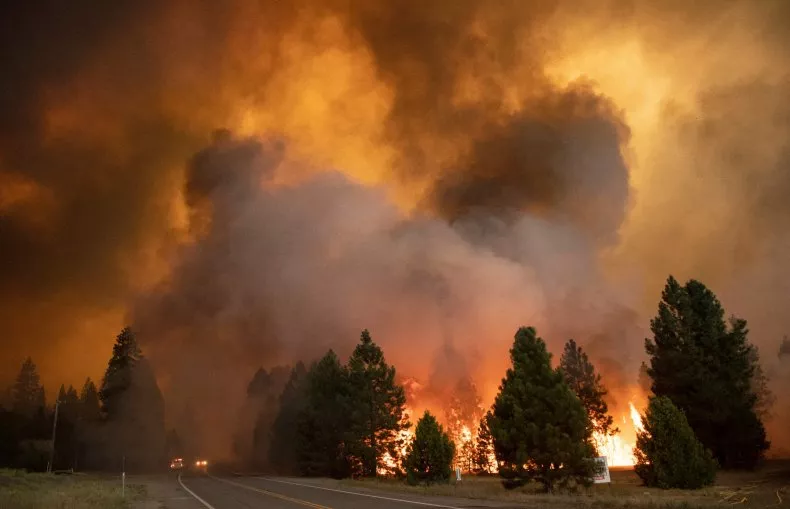 More than 12,400 structures are threatened by the flames. At least 45 structures and 22 "minor structures" have been destroyed. No firefighters or civilians have been injured so far, according to Cal Fire.
Videos and photographs posted to Twitter showed several buildings destroyed, firefighters battling blazes and large plumes of smoke. Many of the businesses along Greenville's historic Main Street have been destroyed.
"We lost Greenville tonight," congressman Doug LaMalfa, a Republican who represents the area, said in a Facebook Video.
The National Weather Service (NWS) warned of the risk of wildfires spreading, writing on Twitter that "elevated-brief critical fire weather conditions will continue thru Thur across valleys, mountains, and deserts due to hot/very dry conditions combined with gusty onshore winds in afternoon/evening hours. Potential for large vertical plume growth."
---
Review Your Claim with Dixie Fire Lawyers
Now is the time to contact us about your potential Dixie Fire claim. If you or a loved one has been a victim of a utility-caused wildfire, Wildfire Legal Center will seek damages on your behalf for the losses you have incurred with absolutely no out-of-pocket expenses from you.
Wildfire Legal Center represents plaintiffs in fire injury and damage lawsuits filed against Pacific Gas & Electric Co. for the devastating property damage, economic losses, and disruption to homes, businesses, and livelihoods caused by recent California wildfires.